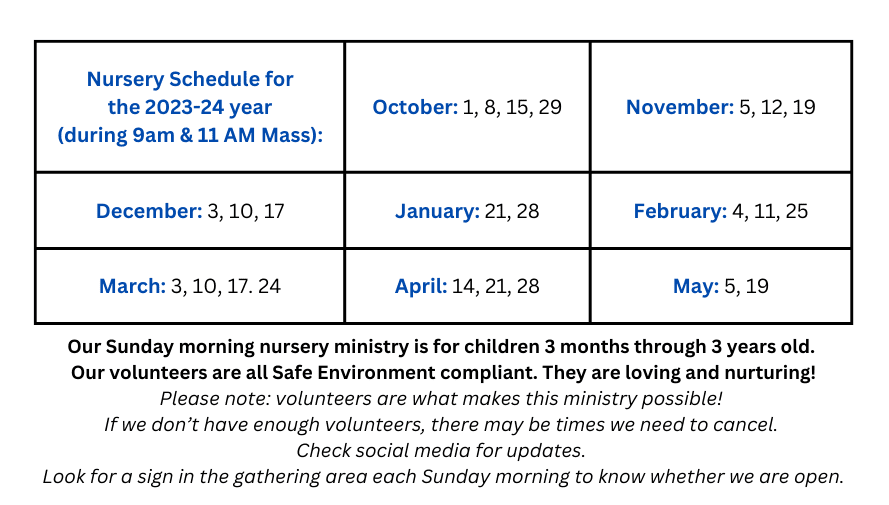 PARISHIONERS AND VISITORS WITH LITTLE ONES:

St. Robert of Newminster Parish offers a Nursery Ministry for our littles ones, ages 3 months through 3 years. We hope to be able to offer the nursery during both 9am and 11am Mass for the 2023-2024 year (September-May). A copy of the schedule will be sent to you via email once we have your registration. Please note: any notice of cancellation will be posted to Facebook and Instagram between Friday and Sunday morning. We will always post with as much notice as possible.

Our ability to open is dependent on having enough volunteers.
Parents may bring their children to the nursery up to 15 minutes prior to Mass. This allows for parents to sign their child in and still be on time for Mass.
The nursery has a changing table, bouncer, swing, and many toys! Whether you have a sleeping baby or a playful toddler, they are in good hands with our Nursery caregivers!
*All volunteers are in full compliance with Protecting God's Children. Safety is our #1 priority.
Each Sunday, make sure you SIGN YOUR CHILD IN. This process is quick and easy. If you have a diaper bag, hand it to the nursery volunteer.
Mass is a sacred celebration. Please stay through the closing hymn. Once Mass has concluded, please head to the nursery to sign your child out.
You will fill out a REGISTRATION FORM. This form only needs to be filled out ONE TIME EACH YEAR.
Once you fill it out, you are all set through May 2024. Sign-in is different and is weekly.
NURSERY REGISTRATION FORMS: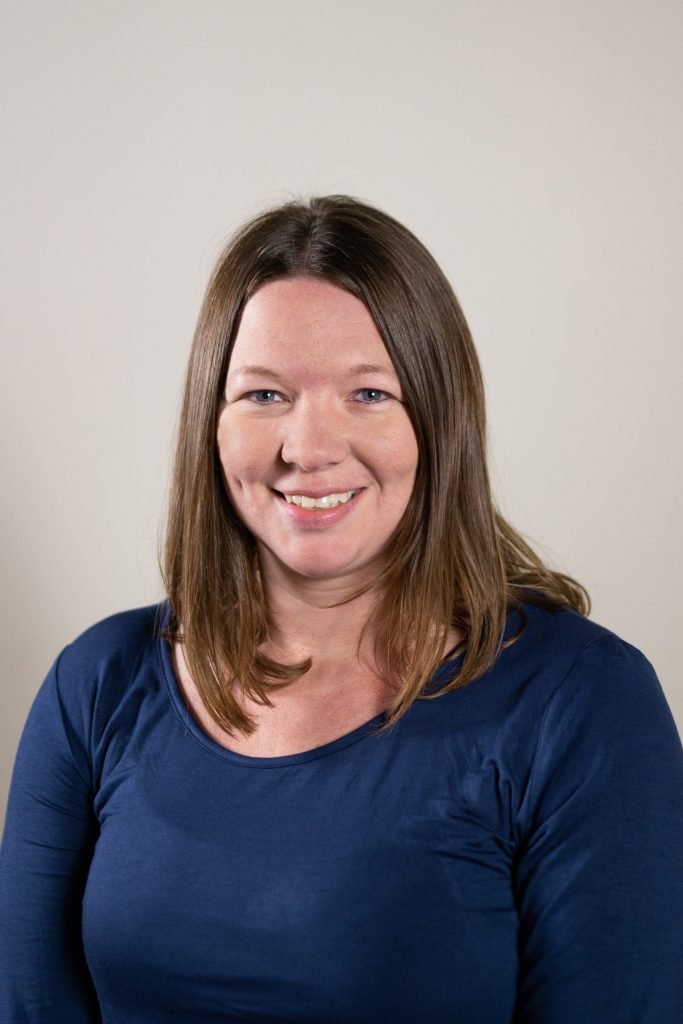 Contact:
Kristen Jankowski
Pastoral Associate for Little Disciples Ministry
(616) 676-9111 ext 132
KristenJ@StRobertChurch.org
INTERESTED IN BEING A NURSERY VOLUNTEER? AWESOME – we need loving caregivers to make this ministry possible!