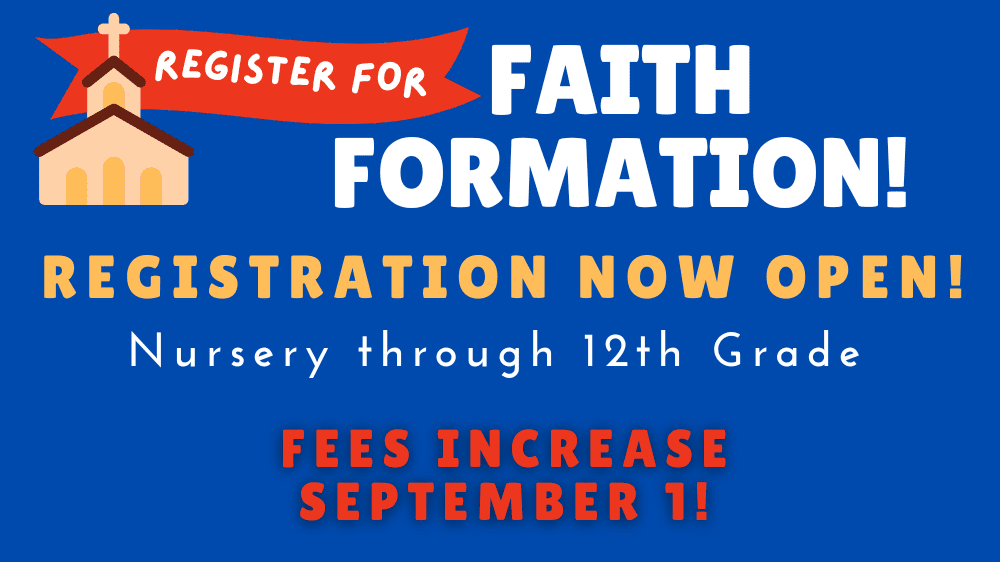 PLEASE NOTE: Friday, September 9 is the last day to register if you plan to have your disciple(s) begin the first week of Faith Formation. Any registrations received after Sept. 9 will be given an alternate start date by the Faith Formation Office.
BEFORE YOU REGISTER:
You must be a registered parishioner of St. Robert of Newminster Parish to register for Faith Formation. Please contact the Parish Office at ParishMail@StRobertChurch.org to join the parish.
Complete the Faith Formation Registration form in its entirety, including the Medical Treatment Release, Photo Release, and Carpool/Pickup Information.
Disciples are placed in sessions on a first come, first served basis. Later change requests are processed as new registrations. We are not able to hold a spot for families not yet registered as parishioners.
Children must be 3 years old by September 1 and potty-trained to enroll in the Little Disciples Sunday School program.
Faith Formation Information
Saint Robert of Newminster Parish envisions faith formation as a year-round discipleship process. Learning/age groups are called by discipleship titles. Our year-round schedule will include three terms: Fall (September-December), Winter/Spring (January-April), and Summer (May-August).
After carefully reading through this information, if you have any questions about faith formation processes at Saint Robert's, please don't hesitate to contact the faith formation office: 616-676-9111 ext 114, faithformation@strobertchurch.org.
Learning/Age Groups
Teen Disciples (high school grades 9-12)
Young Disciples (middle school grades 6-8)
Junior Disciples (elementary grades 1-5)
Little Disciples (Preschool – Kindergarten)
Your child is ready for Sunday School when they are fully potty-trained and are able to separate from parents without distress.
Nursery (6 months – 3 years)
Fall & Winter Term Sessions
Teen Disciples: Sundays for the 6:00 p.m. Mass until 8:30 p.m.
Compass (Confirmation Prep* for 8th grade): every other Sunday from 3:30 to 5:30 p.m.
*Teen Disciples who have not yet been Confirmed will enroll in Compass
Young Disciples – Journey (Grades 6 & 7): opposite Sundays of Compass from 3:30 to 5:30 p.m.
Junior Disciples: Mondays 5:00 to 6:15 p.m. OR 6:45 to 8:00 p.m.; Tuesdays 5:00 to 6:15 p.m.
Little Disciples (Sunday School and Nursery): Sundays during the 9:00 and 11:00 a.m. Mass times
Here is the direct link to the registration form.
https://giving.parishsoft.com/App/Form/dd278d8b-5824-4820-ab7c-34f931b2ef64
We Need Leaders-Facilitators!
"All baptized believers, in their dignity as children of God, are active participants in the catechetical initiative, and because of this are called to become authentic missionary disciples." (Directory for Catechesis 2020, 4)
The term "catechist" is a blanket term for everyone who passes on the Christian faith. Catechists are faith-filled people who love Christ Jesus and want to share that love of Christ with others. A catechist is one who walks alongside others in the faith journey, learning with them and growing in relationship with Christ Jesus.
Catechists are parents, group leaders, facilitators, accompaniers, companions, and sometimes, teachers.
Contact the Faith Formation Office if…

You love Jesus and want to share that love with others.
You don't know your faith well, but you have a desire to grow in your knowledge of and relationship with Jesus.
We will provide you with the resources, so you do not have to worry about it.
**Please Note: Unless we have a minimum of 10 disciples in a group (a.k.a. "class"), we will not offer that group.**
Fees
Registration* Fees (for all disciples in Sunday School through 12th Grade):
In-Person: $35 per disciple before August 31; $45 per disciple after September 1
Virtual (available for Grades 1 – 5 only): $25 per disciple before August 31; $45 per disciple after September 1*There is no registration fee for use of the Nursery
Sacrament Preparation Fee* (for disciples preparing for Reconciliation & Communion and Confirmation):
$20 per disciple before August 31; $30 per disciple after September 1*This fee applies to any disciple preparing for a sacrament regardless of in-person or virtual formation status
Summer term: Fees paid per event
At St. Robert of Newminster, we never turn a family away from programming due to an inability to pay. Please contact Teri Burns at TBurns@StRobertChurch.org if your family is in need of a scholarship.